LANGUAGE COURSES
We provide
language courses at any level
, both
private
and in
small groups
, for the following languages:
• English
• French
• Italian
• German
Our language courses are suitable for beginners who wish to learn a new language as well as for professionals and students who have a good knowledge of the language and wish to improve their
general language skills
or their communication skills in the
business field
(Business English, Français des Affaires, Italiano Commerciale) or in any other sector. Thanks to our
expertise in different fields
, we are able to offer tailor-made courses according to your individual needs helping you to quickly achieve your objectives.
We also help you to
prepare for an exam
and to
obtain a certificate
.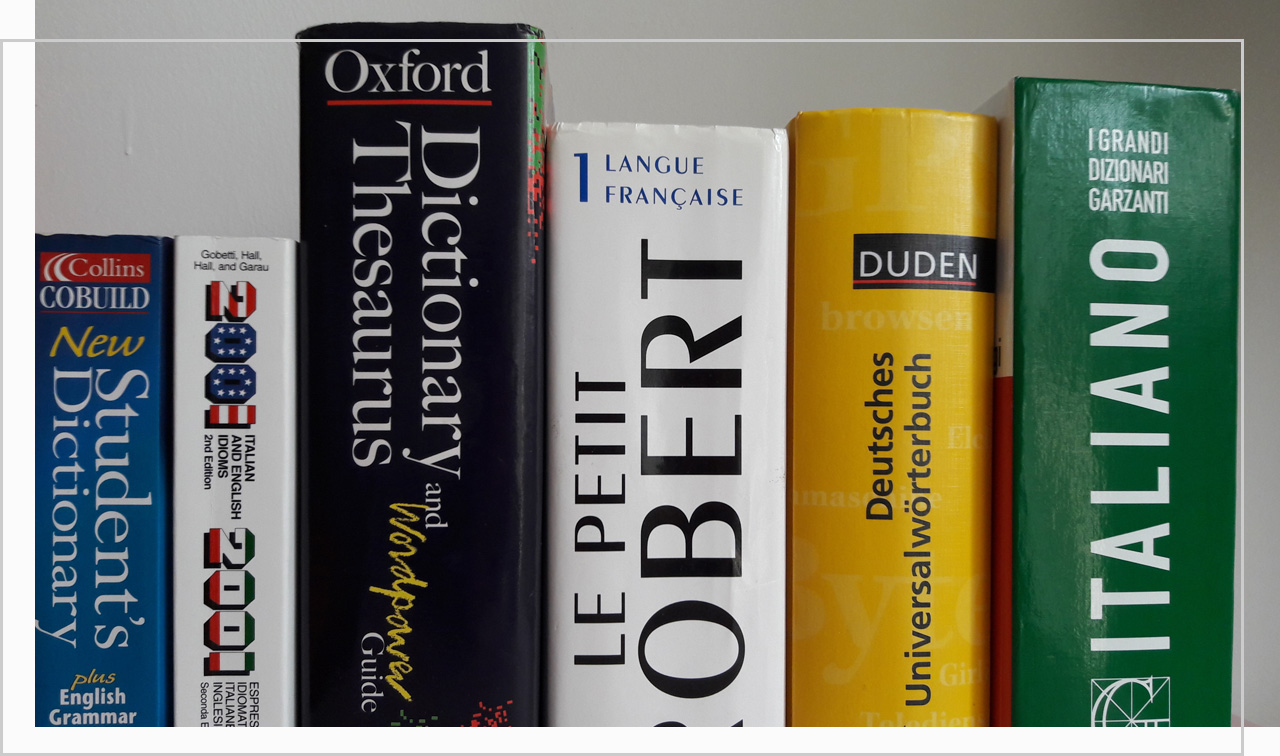 Our courses are especially designed to improve the student's reading and speaking comprehension and production skills through conversation exercises and the use of specifically selected teaching materials to enhance listening and comprehension capabilities.
Moreover, we pay great attention to vocabulary enlargement and acquisition of specific terminology according to the student's needs.

We organise language courses in different formats: courses in mini-groups for learners at the same level (maximum 6 participants), private and semi-private lessons.

In order to make our courses accessible to a greater number of people and to best meet our students' needs, we offer the possibility to attend all our courses both onsite (at our company facilities in Fabriano, Italy, or at companies located in Fabriano, Italy) and online (with a teacher using Skype, Zoom or other platforms).
These are our most popular courses. All courses are available (mini-group courses can be activated with a minimum number of participants).
Click on each course to see the course description with detailed information: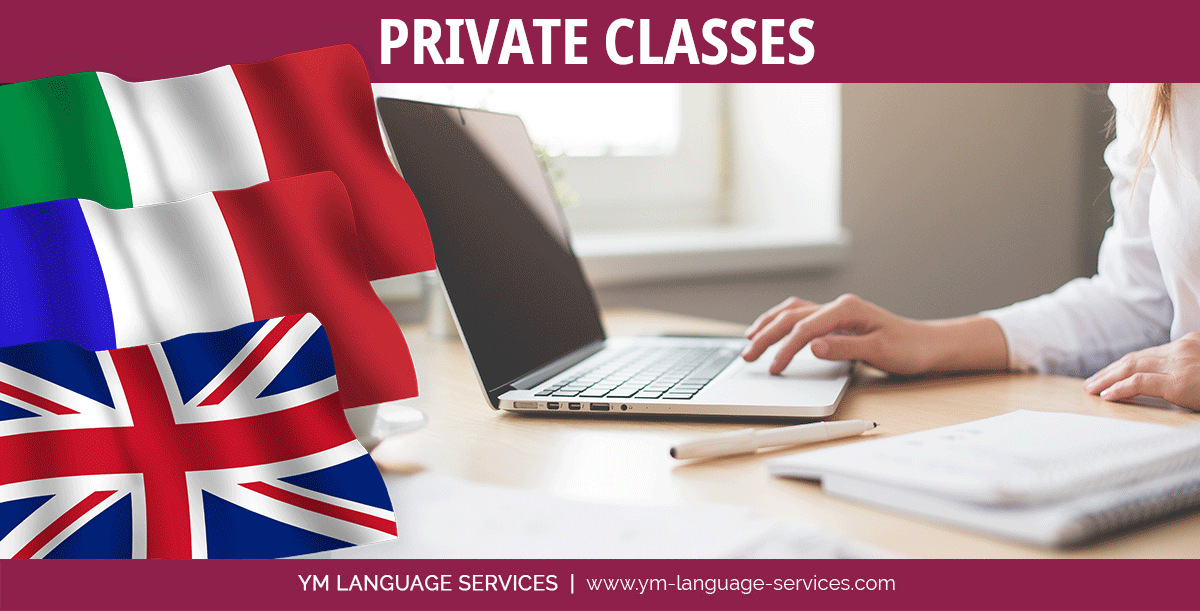 PRIVATE CLASSES
TAILOR-MADE ENGLISH, FRENCH AND ITALIAN COURSES
Private and semi-private language classes at any level (A1-C2) with a bilingual teacher designed to help you improve your comprehension and conversation skills by consolidating your knowledge of grammar rules. Programme tailored to students' needs, to prepare for an exam or to obtain a language certification.
We also offer highly specialised courses in partnership with experts from various fields. For more information on our
specialised courses
, please visit our dedicated page.
FAQ
How are group courses organised?
Mini-group courses are organised with a very limited number of participants (maximum 6 people) in order to ensure an excellent interaction between participants and to allow the teacher to understand the specific difficulties for each of them. When it comes to courses for adults, groups are formed according to the students' language level and their common objectives whereas, in the case of courses for children and teenagers, groups are formed taking into account the participants' age to guarantee a similar level of knowledge. Classes are planned according to students' availabilities and schedules.
I need to improve my language knowledge in a specific field, do you offer tailor-made courses?
If you wish to improve your knowledge in a specific field, we kindly advise you to take individual classes as the teacher will be able to give you specific guidance on terminology using appropriate teaching material helping you to face specific situations.
However, at the same time, you can also decide to follow a group course where, thanks to conversation exercises and the review of grammatical and lexical structures, you will be able to improve your language skills.
How can I save money on language courses?
As far as language courses are concerned, in addition to individual classes, we offer courses in
small groups
(maximum 6 people) with participants having the same language level so that they can actively participate in the lesson, contribute to the conversation during the class, and get continuous feedback from the teacher.
Lower prices are offered for group courses allowing you to actively achieve your language objectives while saving money. We kindly advise you to contact us for further information on our courses.
On our
Facebook page
we regularly offer special prices on our language courses, therefore we kindly advise you to click on this
link
to find out about all our offers.
Do you provide a certificate at the end of the course?
Yes, upon completion of a mini-group, private or semi-private course, participants will receive, at no extra charge, a certificate of attendance indicating the type of course, the duration and the level reached.
Do you organise courses to obtain a certification confirming the language level acquired?
We help candidates to prepare for the different language certifications (e.g. Cambridge, IELTS, TOEFL... for the English language, DELF, DALF, TCF... for the French language), allowing candidates to practise exam papers which are similar to those they will have to take and providing them with all the practical information they need to take the chosen exam. The exam to obtain certification must be taken at an authorised exam centre. We collaborate with authorised exam centres and we will be glad to provide candidates with all needed information regarding registration, timing, costs and testing procedures for the chosen exams.
I would like to offer a language course as a gift. Do you offer this option?
Of course. A language course is a useful and original gift, perfect for different occasions (birthdays, anniversaries, Christmas, graduations...). Depending on your preferences and budget, you can buy a gift voucher of the amount of your choice which can be used to pay for all or part of your chosen course. We offer different solutions and different packages. The person who receives the voucher will be able to choose between all available course options (mini-group, private or semi-private) and available languages (English, French, Italian, German) and will be able to use the voucher within a period of 18 months from the date of issue. Lessons can take place on-site (in Fabriano, Italy) or online (Skype, Zoom or other platforms) depending on individual preference. It is not necessary to know the level of language skills of the person who will receive the voucher or when he/she is available as we can then organise the course according to his/her personal and professional needs. The personalised gift voucher can be delivered either in paper format (a lovely card made of handmade paper) or in digital format (to be printed directly).