PRIVATE LANGUAGE COURSES - ENGLISH, FRENCH, ITALIAN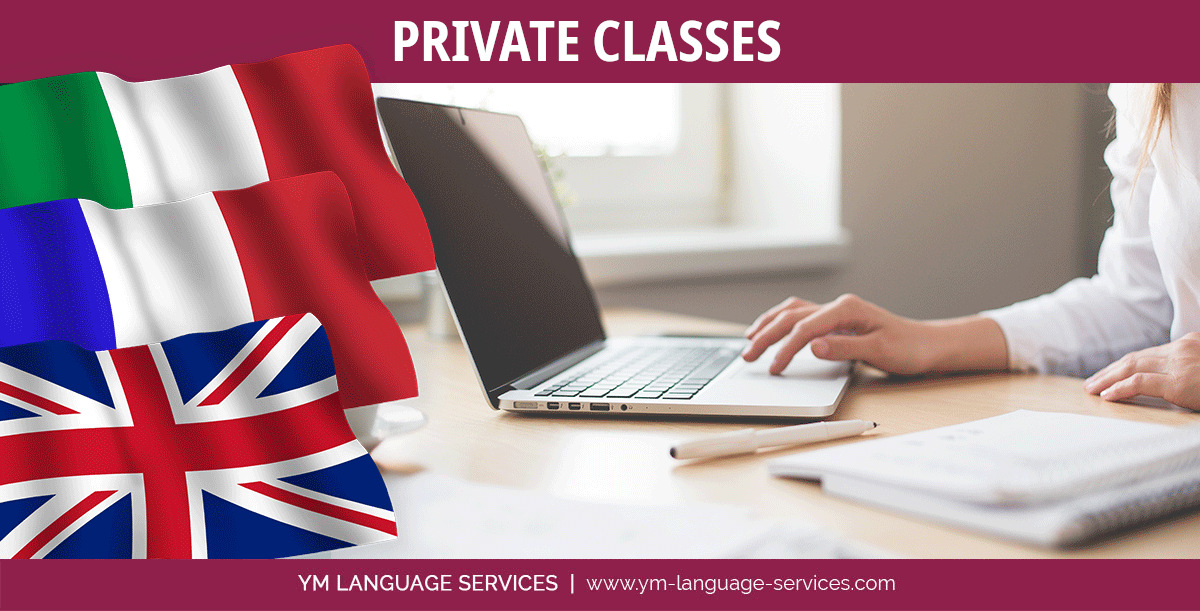 OBJECTIVES AND PROGRAMME
For over fifteen years, in addition to courses in mini-groups, we have been offering private English, French and Italian courses for both professionals and students in order to meet individual needs with a tailor-made offer.
These lessons are designed both for those who already attend one of our courses in mini-groups and who sometimes have specific needs that could not be addressed during a group lesson (specific project, business presentation, job interview, confidential or specific documentation...) and for those who prefer to take one-to-one lessons because their schedule is incompatible with the attendance of a course in mini-group or because they want to discuss specific topics. Lessons can also be planned to help you prepare for exams and language certifications at any level.
Lessons will focus on improving the four language skills required to have a good command of a foreign language, namely: written and oral comprehension and written and oral production. Oral expression and listening will be the main focus of the course, thanks to guided conversation exercises on a chosen topic and numerous listening sessions with audio material designed to broaden vocabulary and improve pronunciation, with the aim of improving the language skills needed to deal with communicative situations in professional and personal life.
Specific exercises are offered on specific topics, including those related to the activity carried out by the company in which the participant works, with the aim of enabling them to gain confidence and feel at ease while they actively participate in professional meetings, seminars, conference calls, telephone calls and meetings with customers.
In the case of students, whatever the level or the topic of the studies undertaken, specific exercises will be offered for the preparation of language tests and exams, according to individual needs and requirements.
We also offer semi-private courses with only two participants of the same level.
COURSE ORGANISATION
Each lesson will last 60 minutes.
The duration of the course will be agreed with the participant according to the objectives to be achieved. We also offer lesson packages at a reduced price.
The day and time of the lessons will be scheduled according to the student's needs.
Depending on the student' s preferences, lessons can take place on-site at our offices in Fabriano (Italy) or online (Skype, Hangouts).
Lessons can be cancelled or rescheduled with a notice of more than 6 working hours.
All teaching material, including audio, will be provided at no extra cost, with the exception of any grammar or reading books that may be recommended by the teacher.
A certificate of attendance will be issued upon completion of the course.